IA Modules was founded to create add on software specifically for the QuickBooks community. We've been doing QuickBooks integration as long as or longer than anyone else. Saving QuickBooks users time and extending QuickBooks features is our sole mission.
In 2002, Intuit added integration capability for the first time ever with the release of QuickBooks Pro & Premier 2002 editions. At that time the Intuit Developer Network first formed and took its initial partner applications. IA Modules was admitted into the program in 2002 as a Power Launch Partner making it one of the first dozen IDN partners.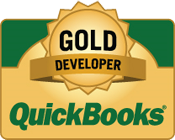 IA Modules, which stands for Integration & Automation Modules, has been consistently earning top rankings with QuickBooks users. Over the years, we have made several add on solutions for QuickBooks users. They have been mainly focused in the remote sales access and eCommerce automation areas.
Since we began, we have earned more 5 star reviews than virtually anyone else. Since its creation, our eCommerce Shopping Cart solution has earned several year after year #1 rankings. Over the same past years, other IA Modules QB Add ons like our Sales Access Server and Amazon Integration Server also earned top rankings.
With our Intuit Gold Certification, IA Modules remains at the forefront of QuickBooks Shopping Cart solutions and QuickBooks related development in general. Our ongoing development efforts will continue to bring ever more time saving quickbooks integration and ever more features specifically focused and relevant to our 100% QB user base.
IA Modules has been leading the market since QuickBooks became available for integration. Few others can say that. Below is a screenshot showing our two eCommerce Shopping Carts holding not only the #1 position, but the #2 position as well! Taken in April of 2005 when we offered both a hosted and a non hosted version of our shopping cart made for QuickBooks.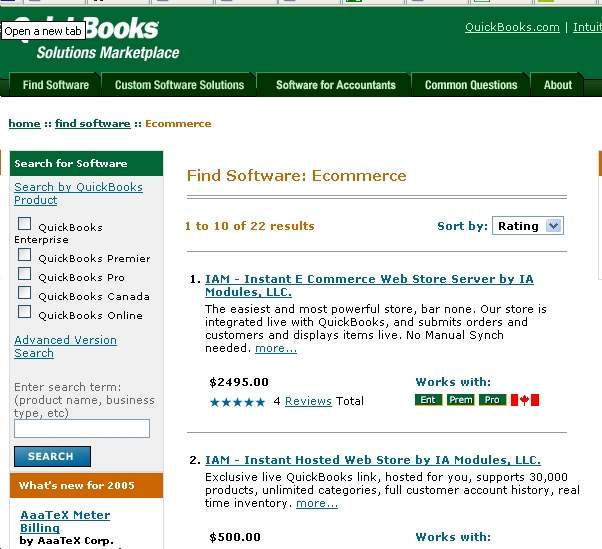 Below is another screenshot of the QuickBooks Market place. Taken on Jan 2 of 2004, it shows our dominance over the year of 2003 and thru 2004. This represents our first product, a product we now bundle with our online store system for FREE! It comprised of high end Java 2 Enterprise edition server technology and allowed our clients to add on as many as 40 additional sales users to their QuickBooks system.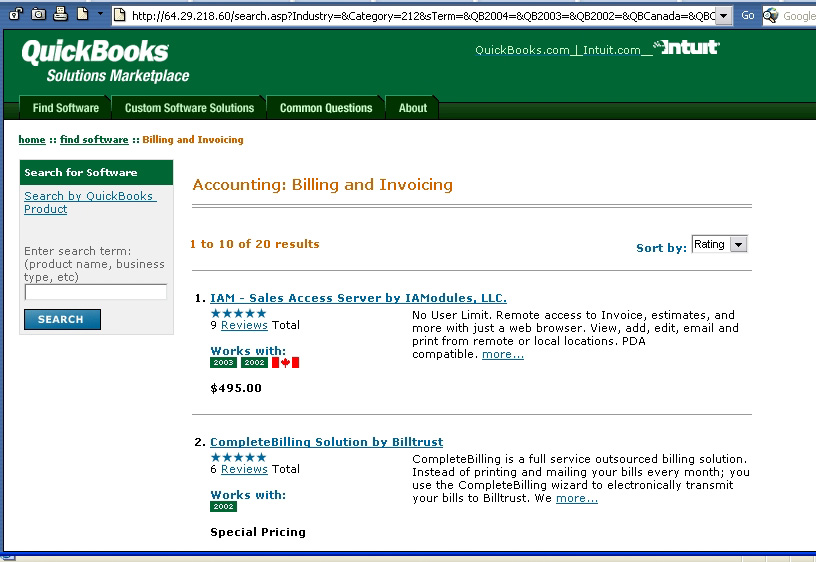 If you remember back that far, QuickBooks Enterprise did not even exist! Clients had to choose between QB Pro and QB Premier, both limited to only 5 users max. Successful QB based businesses quickly had a dilema. With one seat taken by the business owner, 10 or sometimes 20 sales agents might have to play musical chairs with QB's 4 remaining licenses! Ugh. Well, we came to rescue with our Sales Access Server.
It not only allowed highly scaleable access to sales functionality, but in REAL TIME too! Not just for one location, but because it was entirely web interfaced even remote offices and users could work. As it turned out, those same high growth demanding business owners told us that if we could bring this awesome level of integration and QB expertise to bear on a shopping cart solution, they'd be grateful. We did and they are.
An important reason is that we started... by making it work for the MOST DEMANDING QB businesses. So, while others are just getting their QB integration to 'work' and only in the simplest of scenarios, IA Modules integration to QB has been rock solid under the toughest loads from the beginning and for over half a decade! What also makes our shopping cart so loved by QB users is that is was made from the outset, Day 1, for and only for, QB users. Sometimes competitors that have only just begun to integrate into QuickBooks will boast of their shopping cart that has been around for 10 years or more. Well, that also means most of the technology and performance and usability are from 10 years ago too!
In the end, there are hundreds of shopping cart companies....but there is only one that has deep, reliable, full featured QuickBooks integration and an equally expert support staff....we are IA Modules and we look forward to working with you.